Designer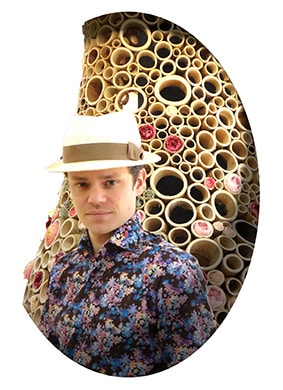 Amaury Gallon, Green Designer, founder of Jardins de Babylone in (2004), investigates the borders of the universe of the botany and the technical innovation. So, he creates real living artwork with nature filled with eco-responsible attitude and environmental values.
Always pushed by the need and the will to create, Amaury Gallon dashes into green walls innovation made from recycled materials and he grants a patent on the waterproofing of its green walls.
Perpetually search for innovative projects, he likes to challenge himself and try to bring cities and Nature together, for example, projects such as "Bubbles" and urban edible garden made from bamboo.
He is requested at the same time for his aesthetic creations of greenwalls and for his creations of urban greening. Amaury Gallon puts a lot of himself into city halls, schools, private or public organizations, personalities to defend and develop his ideas on bringing plants within the cities.
He is committed with the Foundation Yann Arthus Bertrand the project of which consists in acquiring the ancestral lands of the Kogi communities and to restore to them to allow the regeneration of the forest ecosystems and the local biodiversity thanks to their tradionnal know-how.
As plants, he abounds in ideas…!